Hello Everyone!


My name is Loui and I'm a sky blue parakeet. My mommy named me after the great king of France Loui XIV, I think it's a really cool name.
My favorite things are:


Millet spray


Walking around my cage.


Standing on my mommy's finger or shoulder.


Listen to my mommy sing or talk to me.


Sing, sing and sing some more.


Stand infront of a mirror and sing


Climb on my ladder.


Get cleaned by Lizzy


Sing to Lizzy


Rest on my swing


Yummy treats! (like Corn, Brear, Carrots, Broccoli, and more!


Get kisses from mommy or Lizzy.





My mommy got me from a pet shop, she was looking for a male parakeet and all the parakeets that they were selling up front were females, when the owner looked for a male in the back, I was the only one!
So mommy took me and I've been a happy and spoiled birdie ever since.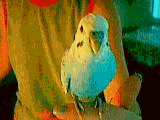 At the beginning I was very quiet. But Mommy said I came out of my shell a lot! I have a broken wing, as you might have noticed, the owner of the pet shop told my mom that, when I was a little chick, my bird mom stepped on my wing and broke it. So I can't fly, but I can jump really high! Mommy always tries to keep. me from jumping from a high place, or when she's holding me, so I don't get hurt.
I live with my human grandma, grandpa, and aunt. They all like me very much!
I also have a cousin named Maggie, she's a Cocker Spaniel.
But my favorite one in this world is my siter Lizzy, you can find out about her in her own section of this page, just Click Here!
I love to be with her, at the beginning I wasn't too happy about it, but now I can't be without her!
Mommy got us a nice big cage so we can be together all the time, she just said not to try to have babies, and I don't think we will for now!
But mommy says you never know!
I am happy the way I am now!
So that's my life and I love it! I'm a very happy bird!
Below is a picture of me with Lizzy.